AEL17 Fit Homes IoT Engineer

Fit Homes IoT Engineer
(12 months fixed term)
Salary £30,000 plus car allowance
Got the passion and skills to develop technology for good?
Want to take the lead in digital health and care?
Albyn Housing Society is recruiting an Internet of Things (IoT) engineer to deliver key outcomes in testing and developing a sector leading digital health and care solution. Not only will you possess a keen mind with the ability and technical interest in this field but as important is your social heart which seeks to deliver transformational change to people with a range of health and care challenges.
The individual will lead on design, installation, validation and maintenance of Fit Home sensor systems in the homes of participating individuals in the Highlands and elsewhere, ensuring data is effectively captured, stored and available to customers through the client interface and anonymously to agreed researchers. As a customer-facing role, this person will play a key part in helping individuals and their carers to engage with the project, interact with the data and understand how it can bring most benefit to them.
To fulfil the potential of this opportunity, you will bring a passion for technology and its potential to improve people's lives, be a natural problem solver, have the drive to overcome challenges that arise and the vision to see what can be achieved by doing so. While significant knowledge and experience of developing home sensor systems and data management will help, a good working knowledge of internet of things solutions combined with capacity for self-directed learning, initiative and the drive to overcome challenges may also provide the right fit.
In return, Albyn will provide a can-do environment, support to overcome challenges and the opportunity to work with sector leading partners to tackle a growing social and market need. Developed in response to real-life challenges facing individuals living in Highland communities, Albyn's award winning Fit Homes solution has generated significant national and international interest and funding. While we can't guarantee it, providing the necessary skills and entrepreneurial drive to this role has potential to lead to longer term funding and to shape a longer term role in the product and business growth.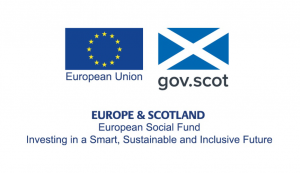 This role is being financed by the European Social Fund and Scottish Government through the Social Innovation Fund.  For further information, please contact Graeme Hamilton, Innovation officer on 01349 855 979. In the first instance please send your CV and a supporting letter. Further information, is available below or to have it e-mailed, contact recruitment@albynhousing.org.uk The closing date is noon on Monday 17th June 2019. Interviews will be held in Invergordon on Monday 24th June 2019.
IoT Engineer Person Specification
Fit Homes IoT Engineer Job Description